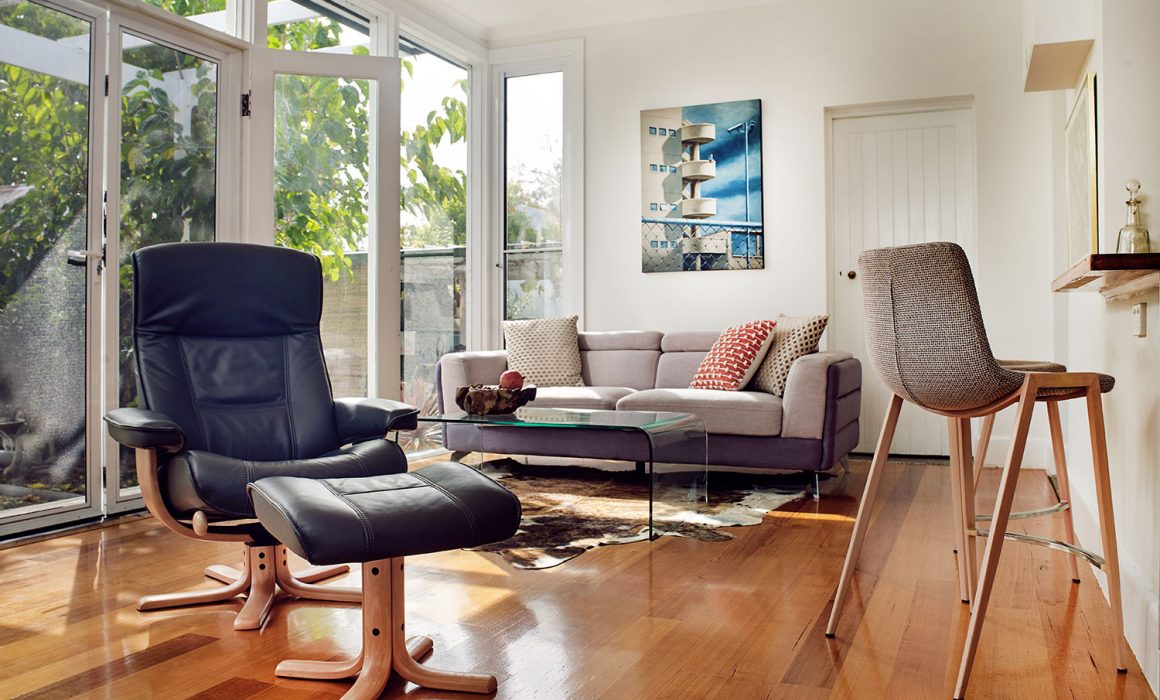 When Benalla chef Sue Ellis extended her 1930s Californian Bungalow with a new sunroom, she turned to Stolz Furnishers to complete the look with a new IMG recliner that she made the centrepiece. 
Sue explains, 'The ideas was to capture the Northern sun and garden aspect at the rear of the house by adding a large sun-filled living space featuring floor to ceiling windows. The room connects to the outdoor pergola that's draped in passionfruit and kiwi fruit vines. We also have a veggie garden and large collection of fruit trees – with the sunroom views we're effectively bringing the outdoors in.'
While the external focus is glorious, internally Australian hardwood floors and minimalist furniture choices, including Scandinavian-inspired, whitewashed Hudson bar stools from Stolz, continue the theme of natural organics. The stools feature appealing slender legs and a pleasing wool fabric appearance. Their design is clean-lined, slim and highly desirable.
Central to the living space is a new IMG Nordic 91 recliner and footstool, featuring elegant, blond timber. 'The design is fantastic and functional, says Sue. 'I love the way it extends and retracts, and its swivel design allows you to easily change viewing positions from garden to kitchen in an instant. I appreciate its clean lines and minimalist footprint – meaning it doesn't dominate the living space. It also manages to compliment the room's airiness, creating the illusion of more space as the flooring beams can clearly be seen beneath it.  
In terms of lifestyle transformation, the sunroom is the new heart of the home, 'it's a great everyday space', says Sue. This cleverly designed, open plan living space now provides a modern living approach, while the meticulously restored original rooms are used primarily for formal occasions.  
Sue explains that she appreciates Stolz Furnishers for their 'fabulous range, covering every area of the home.' This allows her to enjoy extensive browsing and trying out products quickly – 'there's something for every room in the house, and staff are very knowledgeable. Words that we're particularly pleased to hear. 
The team at Stolz Furnishers wish Sue and her family many years of continued happiness and relaxation in their newly renovated home.