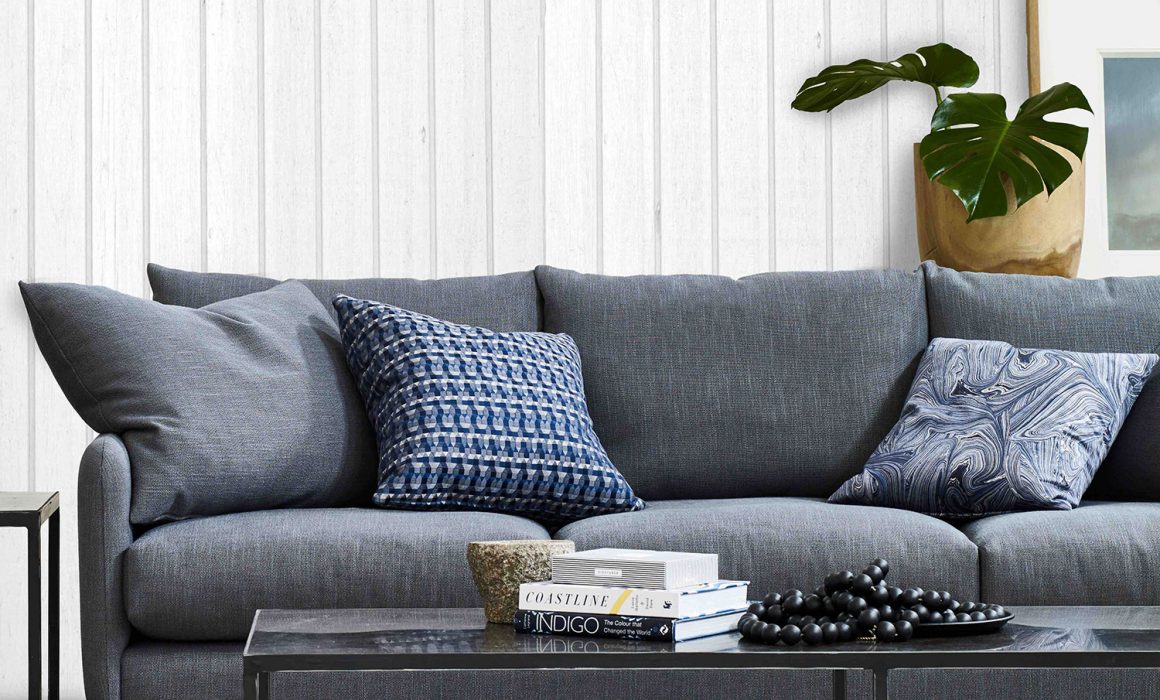 Melbourne furniture manufacturer Molmic has been constructing premium handcrafted, hand upholstered designer sofas for over 30 years. Presenting an insight into their diversity in visual design, we look at a selection of sofas plucked from two of their collections: Contemporary and Relaxed/Loose Cover.
Barker – Contemporary Collection
This new release product from Molmic is a contemporary take on Mid-century modern, with its defined clean lines, timber plinth and fully upholstered fabric and piping. Pictured in Molmic's Madrid Tweed fabric, its texture is divine to touch, and with soft top seat cushions, it's certainly far more comfortable than its 1960s influencers. 
Floyd – Contemporary Collection
Floyd is one of Molmic's most versatile and highly functional sofas. While its design focuses on comfort and functionality, its cushion and arm design clearly showcase Molmic's highly unique visual appeal. Turned timber legs are a beautiful and sturdy inclusion. The no-sag steel sprung suspension provides lasting durability, and the feather comfort wrap cushion filling offers the ultimate in laid back relaxing comfort. Shown in Molmic's Axiom Storm fabric, this calm colour tone is neutral enough to fit within a range of home colour schemes while commanding a bold strength.
Montana – Contemporary Collection
Montana is a perfect addition to any space that requires a detailed lift, a contemporary take on the Glamour and exuberance of 1920s Art Deco style. Pictured in rich vintage influenced Glamour Teal velvet, Montana's seat cushions are fully reversible, providing practical comfort. Its design contours are softly flowing and elegant, which present an impressive appeal due to the turned timber legs, elevating its attention-getting stance – a genuinely graceful and timeless sofa design.
Steele Avenue – Relaxed/Loose Cover Collection
This fabulous sofa design is one of Molmic's most popular, practical and elegantly designed sofas. Molmic describes it as 'classic warmth, reminiscent of the alluring English countryside,' however, given its reputation for providing lasting relaxation for so many Victorian homes, we prefer to label this gem a Melbourne icon. With cushion backs filled with a natural feather blend filling and showcasing Molmic's classic loose-fitting fabric design, Steele Avenue blends functional brilliance with a graceful and time-honoured appearance. Pictured in Molmic's Urban Snow linen fabric.
Loft – Relaxed/Loose Cover Collection
If a statement piece is the order of the day, this sumptuous and loveable loose cover designed sofa from Molmic is sure to impress. With its scatter cushion design supported with Molmic's naturally comforting feather blend filling, Loft presents classic European elegance with a fresh-faced modern punch. Pictured in Molmic's sweet and subdued Tahoe Mist fabric.
To learn more about Molmic please visit: Made in Melbourne: Leading Fabric Sofas by Molmic