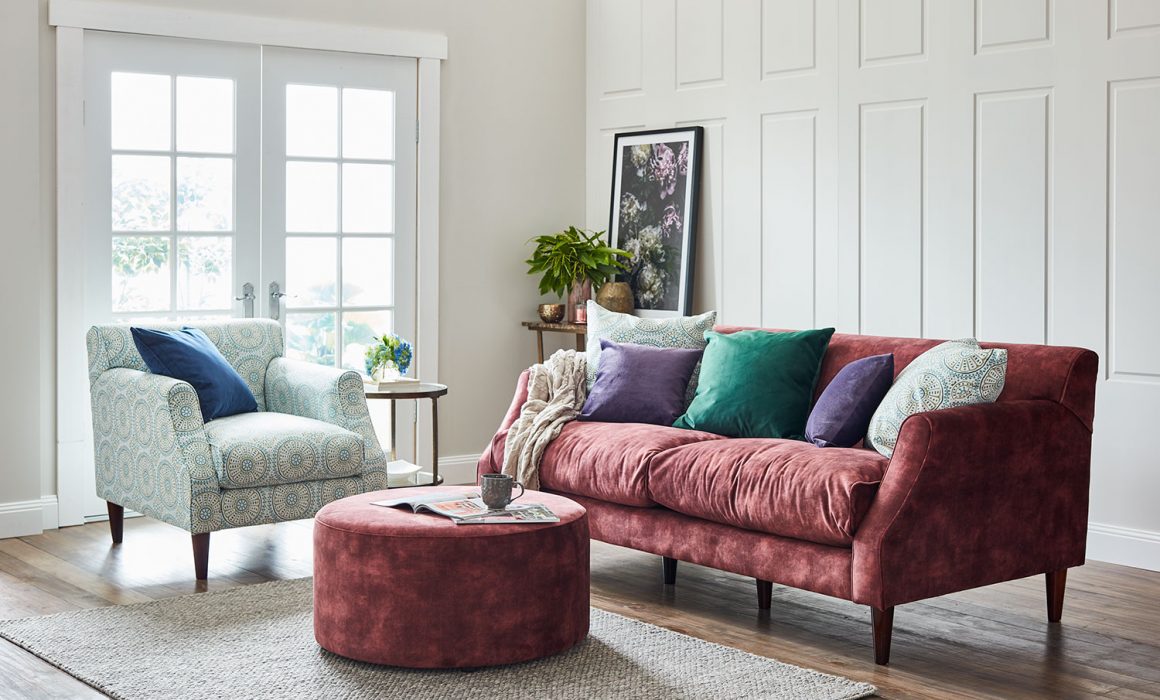 Bring a sense of elegance and charm to your home with the help of Stolz Furnishers. With the Australian made fabric lounge suites Clever and Royal, coupled with designer accent chairs, ottomans and tables, it's possible to achieve a high-end London hotel look similar to leading interior designer Kip Kemp MBE.
Design Director of Firmdale Hotels UK, Kip has inspired a worldwide interior style that brings layering of modern colours, designer patterns and textures to the traditional, previously subdued London interior style. Taking a similar lead to Kip's design sensibility is the Homemakers Cleaver lounge (shown above) featured in the striking Warwick Lovely Oxblood fabric – a modern take on a vintage classic.
This three-seater sofa features deep, plush comfortable seating and is made right here in Australia, allowing you to choose a fabric colour and pattern that suits your style. Add to this a splash of vintage pastel velvet cushions and the Cleaver Accent Chair (pictured in Warwick Omar Jungle fabric), and your designer look starts to take shape.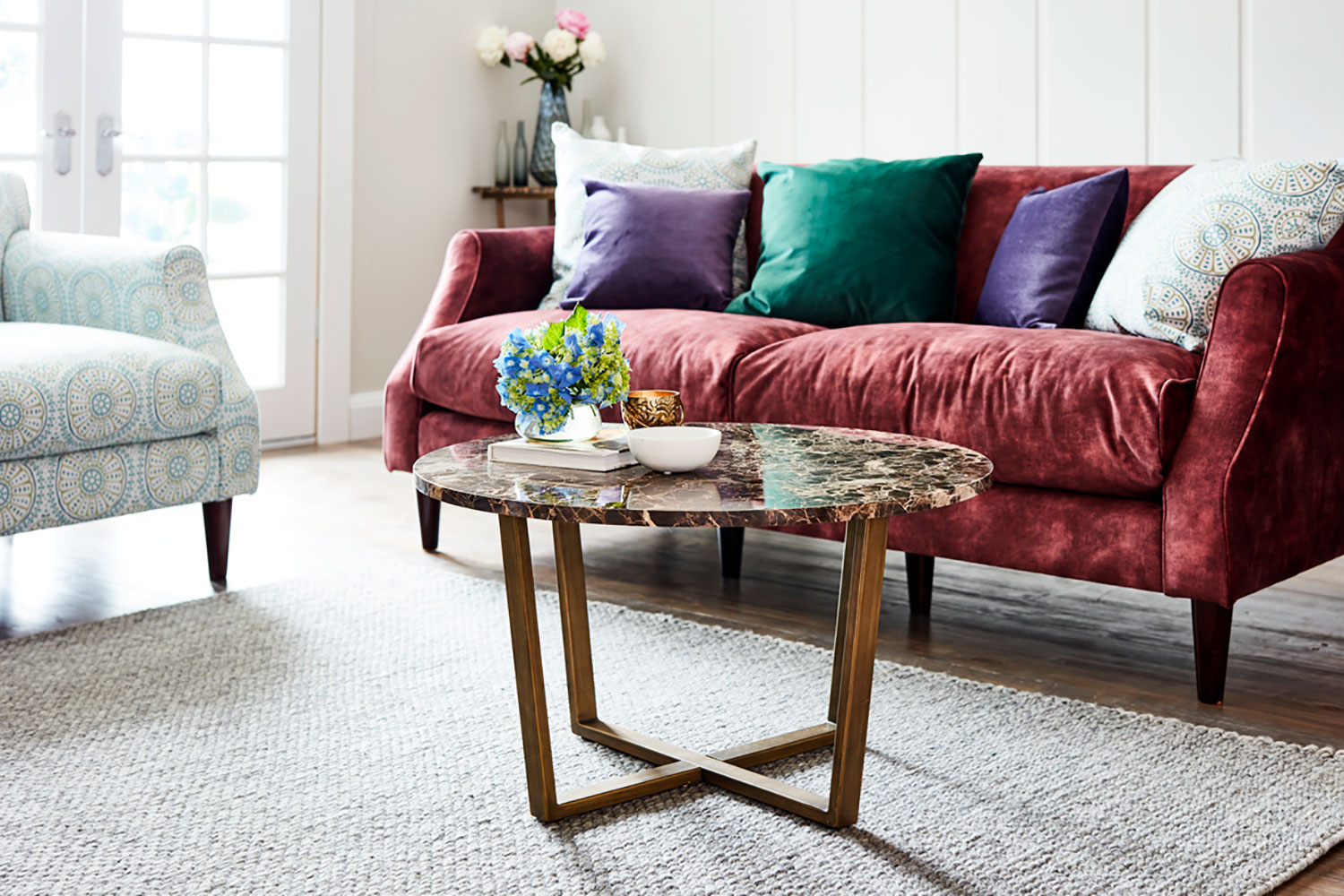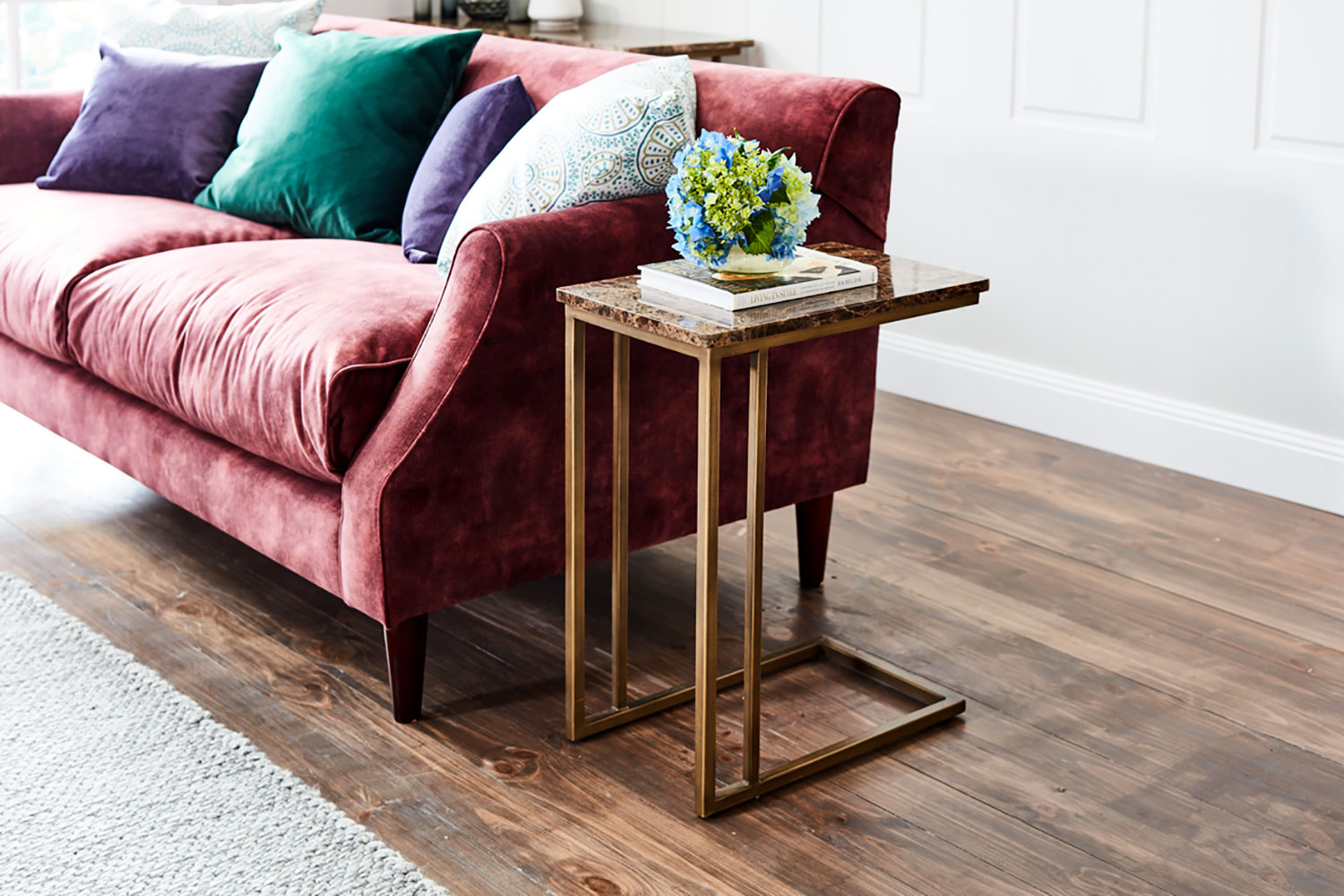 As pictured, elegant wall panelling, light drenching French doors, hardwood floors and a quality wool rug by Weave (also available at Stolz) provides a fantastic foundation to the room.
Other choices might include the Emperor Supper Table – a small, yet detailed side table featuring a naturally grained, rich brown marble top that completes its contemporary brushed bronze base. It's perfect as a side table decorated with a book and a vase, or as a convenient space to temporarily stowaway your midnight snack, shhh! The Emperor Coffee Table is a great way of expanding on functional beauty. Its base plays with angular movement in a creative way, softly distorting orientation; this makes it a unique accompaniment to the lounge suit.
Also shown is the 800mm Homemakers ottoman in Warwick Lovely Oxblood fabric – the perfect place to rest your magazine and morning coffee.
The classic style of the Royal lounge suite compliments any living room without screaming for attention. While this lounge suite leans toward the traditional London style, it can be dressed up with tropical-inspired fabric cushions from Madras Link (also available at Stolz Furnishers). The Royal is also proudly made in Australia and is available in a variety of fabrics. With scrolled arms, it's available as a three-seater or two-seater or armchair. The ottoman is sold separately.
While one might choose to limit the colour and texture, layering (as pictured), it's easy to modernise this lounge suite to achieve the 'Kit Kemp look' by carefully selecting patterned fabrics and pastel-toned floral arrangements to dress up your room. Floral print artwork also works well in such a setting, as does designer brass, glass or chrome vases. Scented candles and/or aroma diffusers in warming room fragrances (available from Stolz Fine Things) are also a fine way to complete the experience – allowing your family and friends to relax in true London chic designer style.